Energy efficiency policies: toolbox and best practices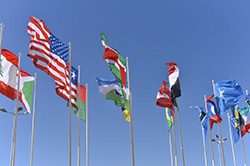 Information available worldwide about energy efficiency policies and programmes has become abundant. A major problem for practitioners is how to use this large amount of material to improve their domestic practices.
This training will help to understand different policy targets and existing measures on energy efficiency. Best practices implemented worldwide will be presented in depth and evaluated in order to identify their strength and weaknesses . The scope covers all end-use sectors and all types of measures.
The training is intended for managers and staffs of departments that focus on energy efficiency, who work for government and other relevant agencies at the national, regional and local levels. It is also intended for managers of companies in the energy sector impacted by energy efficiency and CO2 reduction initiatives.
The sessions will rely on case studies and interaction among participants. They will include quality support materials.
Day 1: Context and decision makers' toolbox
Session 1 : Context
Session 2 : Decision markers' toolbox
Day 2:  Energy efficiency policies evaluation
Session 3 : Policy evaluation
Session 4 : Examples of energy efficiency best practises