The Only Source You Need for Analyses, Presentations and Research
Annual stats from 1970 to 2021
186 countries
Why bother struggling with multiple data sources? Global Energy & CO2 Data brings you the most comprehensive and up-to-date energy database, providing data and trends for all energies by sector as well as emissions for 186 countries. This database leverages the most reputable national and international information sources.
Through an exclusive update process and recognised expertise, Enerdata provides a comprehensive set of statistics and indicators on decarbonisation, electrification, global supply, demand and prices for all energies as well as GHG emissions by sector.
World decarbonisation indices in 2021
Discover a selection of countries which present the highest decarbonisation indicator
(intensity are given at purchasing power parities)
More indicators are available:
On CO2 emissions:
CO2 intensity to GDP
CO2 intensity of industry to value added
CO2 intensity of transport to GDP
CO2 intensity of households to private consumption
CO2 intensity of services to value added
CO2 intensity of agriculture to value added
CO2 emissions factor of the electricity production
CO2 emissions from refineries
On renewable energies:
Share of renewables in electricity production (incl. hydro)
Share of renewables in electricity production (excl. hydro)
Share of renewables in gross electricity consumption
Share of renewables in primary consumption
Share of biomass in industry consumption
Share of biofuels in road transport
Installed capacity of solar water heaters per capita
Stock of geothermal heat pumps per capita
On energy efficiency:
Final energy intensity of GDP
Electricity intensity of GDP
Energy intensity at constant GDP structure
Energy intensity of industry
Energy intensity of households
Energy intensity of services
Energy intensity of transport
Energy intensity of agriculture
Electricity intensity of industry
Electricity intensity of households
Electricity intensity of services
Electricity intensity of agriculture
Why Subscribe?
Comprehensive:
Annual energy and GHG data from 1970 onwards
Up to 2000+ data series and indicators by country
Coverage of all energies in 186 countries
Reliable:
400+ global premium sources
Proven data compilation and expertise process by experienced data specialists
Continuously updated: 2022 data estimates available as early as March 2023!
Easy to use: intuitive interface, multiple data export formats and query saving
Compatible with your work environment
Both Excel and database formats (row-oriented or column-oriented) available
No ruptures in time series means easier modelling work
Query saving to regularly fuel your model or analysis
Global supply, demand, prices, indicators and emissions
Multi-energy approach: crude oil, oil products, gas, coal, power, renewables
Production: imports/exports, demand by sector, prices and taxes
Advanced data: economic data, indicators, energy balances
CO2 emissions by fuel, activity and industry process
CO2 information with indicators and balances by country
CH4, N2O, PFC, SF6 emissions data included
Interactive world map to visualise trends and flows
Country snapshot to grasp the essentials
Data export in .csv format to integrate your own databases and models
Available Energies
Electricity
Total
Hydro-electricity
Nuclear
Thermal
Solar
Geothermal
Other
Coal, Lignite
Total
Coal
Lignite
Coke
Briquettes
Peat
Gas
Natural gas
LNG
Manufactured gas
Coking gas
Blast furnace gas
Biomass
Heat/Solar
Uranium
Oil
Total
Crude oil, NGL

Total
Crude oil
NGL
Non-conventional oil
Refinery feedstocks
Refined oil products

Total
Petrol
Diesel and light fuel oil
Heavy fuel oil
LPG
Ethane
Refinery gas
Jet-fuel
Aviation petrol
Kerosene
Naphtha
Bitumen
White spirit
Lubricants
Paraffin
Petroleum coke
Value Chain
Reserves and Capacities
Refining and LNG capacity
Reserves (oil, gas, lignite, uranium, hydro)
Power capacities by source
Primary Production
Crude oil production
Primary power generation (hydro, nuclear, renewable)
Gas and LNG production
Coal and coal products
Trade
National imports
National exports
Trade balance
Energy Transformation
Thermal power generation by fuel
Thermal power generation by technology
Refined oil products
Consumption
Domestic supply
Total demand
Energy sector demand
Power plants demand
Transport and losses
Final demand by sector
Sectors Covered
Industry
Steel
Chemicals
Non-metallic mineral
Food and tobacco
Construction
Mining
Machinery
Non-ferrous metals
Paper and pulp
Transport equipment
Textiles and leather
Wood
Miscellaneous industries
Transport
Air
Road
Rail
Internal navigation
Energy Sector
Oil and gas extraction
Coal extraction
Refineries
Power plants
Nuclear industry
Coking plants
Household/Services/Agriculture/Non-energy uses
Power Plants
Public power plants
Auto-producers
Co-generation
Pumping
T&D Losses
Energy Prices
The full module on energy prices has spot prices in major markets as well as customer category.
Spot prices by marketplace or by product
Import/export prices by energy1
End user prices and taxes by sector or energy
Price per consumer category (for Europe only)
1 Only available for main importing/exporting countries. Crude oil import price data not available.
National currency
Inclusive/exclusive taxes
Constant prices (US$15, €15)
At purchasing power parity (PPP)
In energy units (US$/toe, €/toe)
Emissions
This module is an essential tool for monitoring the driving forces behind evolving GHG emissions (i.e. economic and demographic growth, energy efficiency, market shares of energy products) and evaluating climate change policy achievements.
CO2 Emissions:
By source
By fuel
By industrial branch
Direct and indirect CO2 emissions
CO2 Indicators:
Distance to target for GHG
CO2 emission per capita
Average CO2 emission factor
CO2 per GDP unit
CO2 per kWh produced
Balances:
CO2  balance
Industry fuel combustion and process
Enerdata is proud to provide the latest energy data compiled from around the world. Our strength relies on our reactivity to include the most up-to-date data available from any of more than 400 data sources. With an international network and unique information processing approach, we are constantly enhancing our market data coverage to provide you with the best quality and most timely information.
Monthly data updates and revisions (including previous years).
Previous year's data available as of March for main world consumers and main series (i.e. 2022 data estimates available for G20 countries for production, total consumption and trade for crude oil, oil products, natural gas, coal and electricity in March 2023).
Previous year's data available as of June each year for the 70 largest energy countries (i.e. in June 2023, detailed 2022 data will be available for 70 countries).
Full data for previous years available for almost all countries each December.
Energy prices from the previous year are already included in several countries. For instance, in August 2022, we provided energy price data for 2021 for 91 countries.
All data is compiled according to a tested process, enhanced over the years to provide the most up-to-date information.
Primary past energy data mostly comes from the International Energy Agency (IEA).
Data is completed with statistics from regional organisations (Eurostat, Olade, ADB, OPEC, AUPTDE, etc) or specialised institutions (CEDIGAZ, EurObserv'ER, etc.), as well as from data from national sources (national statistics or data specially prepared by local correspondents from more than 100 partners in over 60 countries). Our international network of partners and independent research allows our analysts and data specialists to update and refine data in a timely manner.
The methodology and definitions used by Enerdata are the same as those used by the IEA and Eurostat.
Country List
EUROPE
EU-27
Austria
Belgium
Bulgaria
Cyprus
Croatia
Czech Republic
Denmark
Estonia
Finland
France
Germany
Greece
Hungary
Ireland
Italy
Kosovo*
Latvia
Lithuania
Luxembourg
Malta
Montenegro*
Netherlands
Poland
Portugal
Romania
Slovakia
Slovenia
Spain
Sweden
 
OTHER EUROPE
Albania*
Bosnia-Herzegovina
Iceland*
Macedonia*
Norway
Serbia*
Switzerland
Turkey
United Kingdom
REGIONS
European Union
OECD Europe
Ex-Yugoslavia
AMERICA
NORTH AMERICA
Canada
United States
CENTRAL AMERICA
AND MEXICO
Belize*
Costa Rica
El Salvador
Guatemala
Honduras
Mexico
Nicaragua
Panama
SOUTH AMERICA
Argentina
Bolivia
Brazil
Chile
Colombia
Ecuador
Guyana
Paraguay
Peru
Suriname
Uruguay
Venezuela
AMERICA (CARIBBEAN)
Bahamas
Barbados
Bermuda
Cuba
Dominica
Dominican Rep.
Grenada
Haiti
Jamaica
NL Antilles & Aruba
St Lucia
St Vincent & Grenadines
Trinidad & Tobago
REGIONS
Latin America
NAFTA
MERCOSUR
OLADE
ASIA
Afghanistan*
Bangladesh
Bhutan*
Brunei*
Cambodia
China
Hong-Kong*
India
Indonesia
Japan
Lao PDR
Macau*
Malaysia
Maldives
Mongolia*
Myanmar*
Nepal*
North Korea
Pakistan
Philippines
Singapore
South Korea
Sri Lanka
Taiwan
Thailand
Vietnam
REGIONS
ASEAN
SAARC/South Asia
OECD Asia and Pacific
PACIFIC
Australia
Fiji Islands*
Kiribati
New Zealand
Papua New Guinea*
Samoa (Western)*
Solomon Islands
Tonga*
Vanuatu
AFRICA
NORTH AFRICA
Algeria
Egypt
Libya*
Morocco
Tunisia
SUB-SAHARAN AFRICA
Angola*
Benin*
Botswana*
Burkina Faso
Burundi*
Cameroon*
Cape Verde*
Central African Rep.*
Chad*
Comoros
Republic of the Congo
DRC*
Djibouti*
Equatorial Guinea
Eritrea
Ethiopia*
Gabon*
Gambia*
Ghana*
Guinea
Guinea-Bissau*
Ivory Coast
Kenya*
Lesotho*
Liberia*
Madagascar
Malawi*
Mali
Mauritania*
Mauritius*
Mozambique*
Namibia*
Niger
Nigeria*
Rwanda*
São Tomé & Principe*
Senegal*
Seychelles*
Sierra Leone*
Somalia
South Africa
Sudan*
Swaziland
Tanzania*
Togo*
Uganda
Zambia*
Zimbabwe*
REGIONS
UMA
MIDDLE EAST
Bahrain*
Iran
Iraq
Israel
Jordan
Kuwait*
Lebanon
Oman*
Qatar
Saudi Arabia
Syria
United Arab Emirates*
Yemen*
REGIONS
CGC
OPEC Middle East
OAPEC
CIS
Armenia*
Azerbaijan
Belarus*
Georgia
Kazakhstan*
Kyrgyz Rep.*
Moldova*
Russia
Tajikistan*
Turkmenistan*
Ukraine*
Uzbekistan
Soviet Union (ex-)
*Countries for which only petrol and diesel prices are available
CO2 emissions from fuel combustion (sectoral approach) for Italy, Kazakhstan and Brazil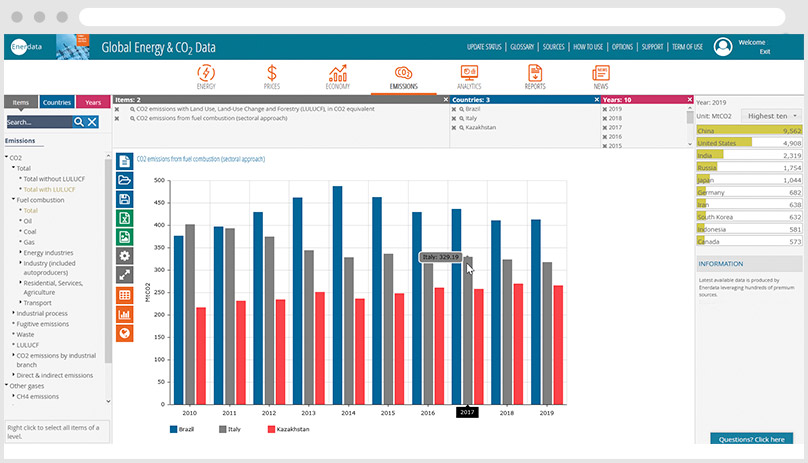 Coal and lignite consumption for Thailand, Indonesia, Australia and Brazil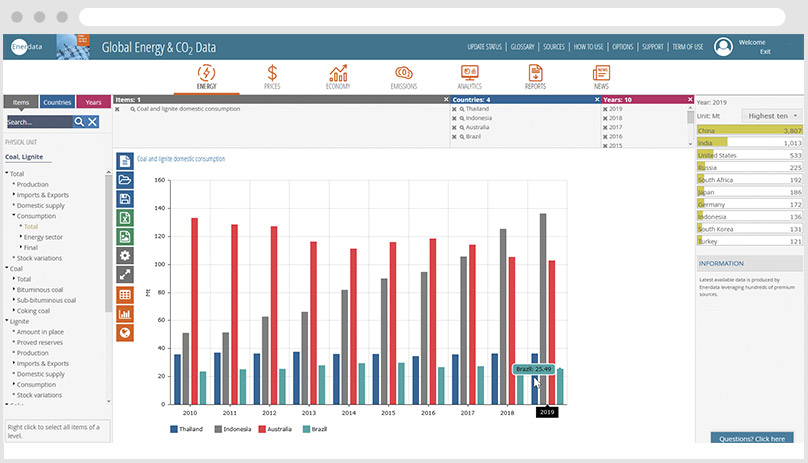 Price of electricity in Industry G (>150 000 MWh) for the United Kingdom, the Netherlands and Bulgaria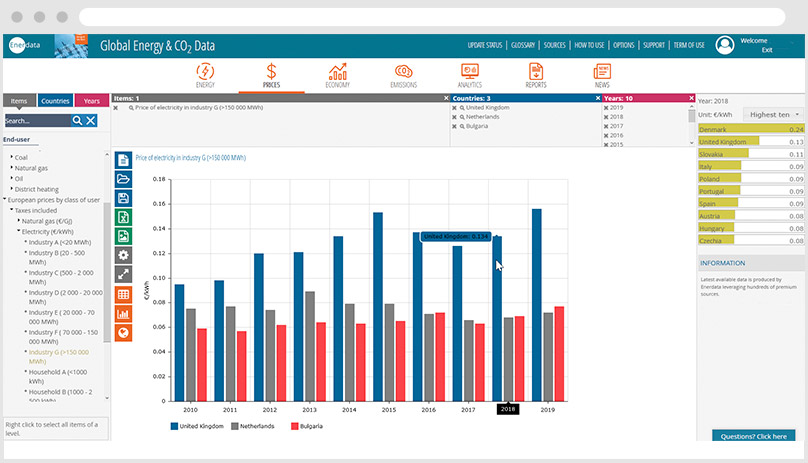 Related Information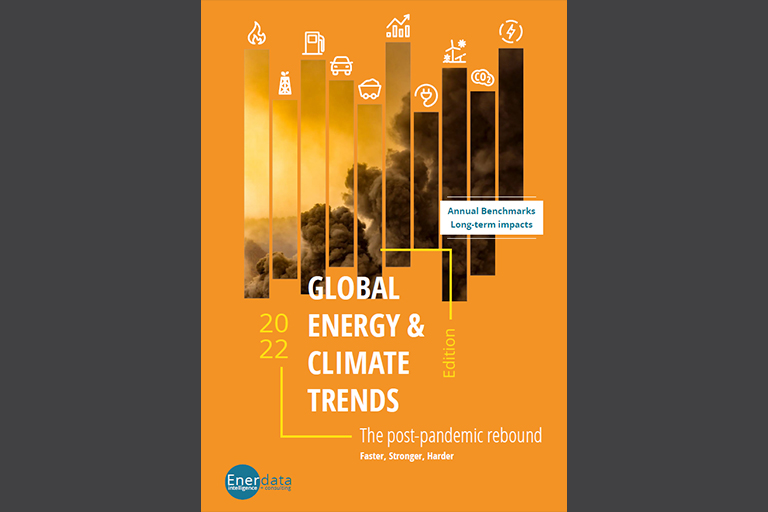 An in-depth analysis of 2021 key figures, with projections related to the current context (post-pandemic rebound and energy crisis due to the war in Ukraine).