For over 30 years, we help you shape the energy transition.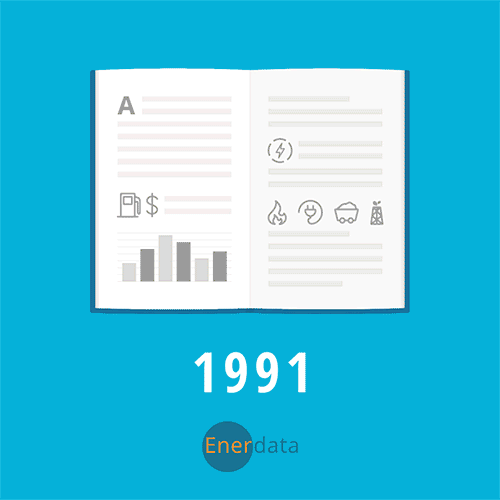 2021 - In 2021, we celebrated 30 years of research and development in global energy markets. Since then, we have been an energy transition expert by analysing and forecasting the energy and climate issues. Leveraging our globally recognised databases, intelligence systems and models, we assist our clients in designing their policies, pathways to decarbonisation, strategies, and business plans.
2016 - Enerdata's team of analysts create new EnerFuture scenarios based on the INDCs analysis.
2016 - Enerdata celebrates the 20th anniversary of its annual "Global Energy Trends" publication.
2015 - Enerdata designs a new corporate logo and adapts its graphic chart.
2014 - With strong growth in the Asia-Pacific region, Enerdata launches a subsidiary branch in Singapore.
2000's - The independent organization continues to invest and develop its expertise with an international network of clients and partners.
2013 - Management transition – Pascal Charriau becomes Enerdata's President.
2010 - Integration of the POLES model and development of expertise on global climate and energy issues.
2000 - Launch of Enerdata's suite of research services.
1990's - Enerdata's energy experts begin analysing energy efficiency policies in France and all research and development programs within the European Commission.
1991 - Incorporation of Enerdata SAS as a spin-off from the CNRS Research Centre, run by Bertrand Chateau and Bruno Lapillonne.
1985 - Creation of Enerdata's in-house database and suite of MEDEE models in order to gather reliable data on all energies across the globe.