Water electrolyser manufacturing capacity report
A bottom-up analysis and forecast up to 2030 on top-tier manufacturers of water electrolysers for green h2 production worldwide.
Format:
PDF File (based on PowerPoint format) + Excel file
Price without VAT. Depending on your statute and location, VAT might be applicable. Get in touch with us for more information.
This report identifies tier 1 and tier 2 manufacturers or integrators of water electrolyser over 144 industrial companies worldwide. This ranking of tier 1 and tier 2 is based on their existing and planned capacities up to 2030 and consists of 12 companies among which NEL HYDROGEN, ITM POWER, CUMMINS or THYSSENKRUPP. Each of these companies is profiled on their offer & technologies, finances, production & supply chain and sales & project pipeline. We also localise each factory and provide a global analysis on key parameters such as investment cost, construction time, etc. Finally, we summarize by key region the installed capacity and put them in perspective with regional targets in terms of installations or H2 production.
Global coverage: all electrolysers companies are mentioned in the report from start-up to corporate groups, with a focus on leaders (in manufacturing capacity), all geographies are covered (Europe, North America, Asia), so are all the electrolysis technologies.
Unique bottom-up approach based on equipment manufacturing: the production forecast is built on deep analysis of the 12 leading electrolysers manufacturers, by factory and in perspective of their project pipeline and cross-checked against multiple sources.  It enables the differentiation between established players and challengers.
Instant access to consolidated and summarised information by year, region, technology or factory project status and eventually, the potential H2 production when the electrolysers manufactured  will be installed (assuming a given utilisation rate).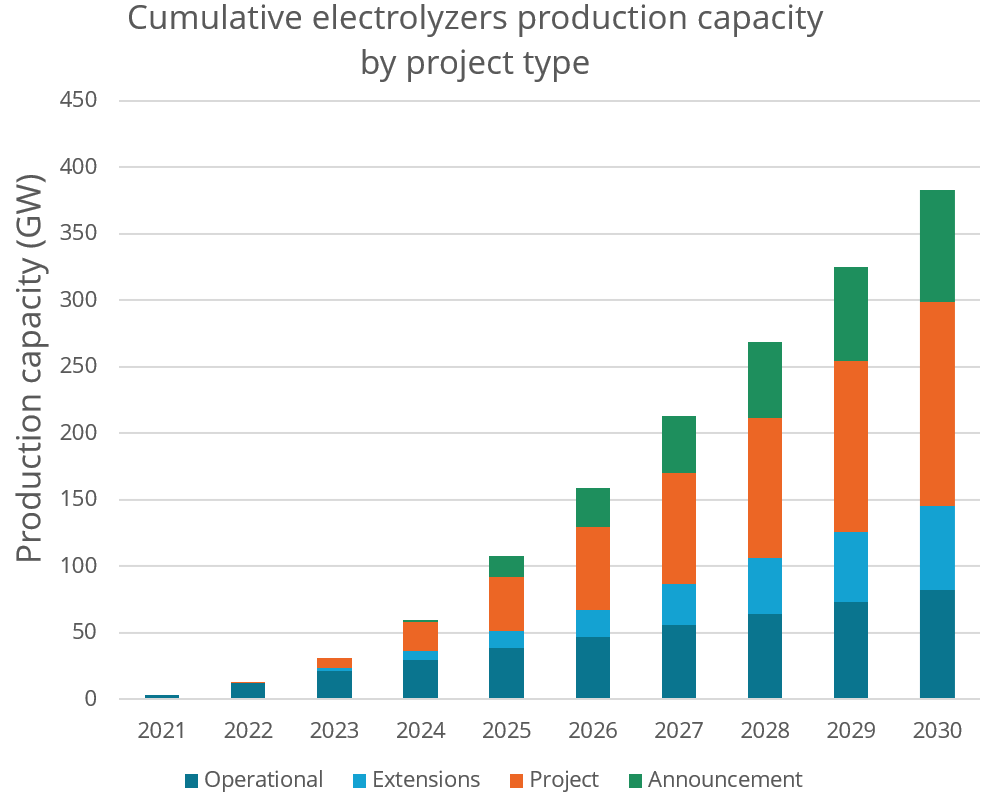 Do you have a question regarding the report content, delivery method or taxes?
Don't hesitate to drop us an e-mail or phone us at: +33 4 7642 2546.
Our customer service will be glad to answer any questions you may have within 24 hours (on a working day).
Shopping cart
Your shopping cart is empty.
Secured payment by