Enerdata is an independent research and consulting firm specialising in the analysis and modelling of the global energy markets and its drivers. Created in 1991, Enerdata now has over 25 years of experience on past and present issues shaping the energy industry.
Our teams are made up of energy experts, analysts, engineers and IT specialists. Capitalising on its databases and forecasting models, Enerdata brings its expertise to cover the political, economic and environmental aspects of energy systems.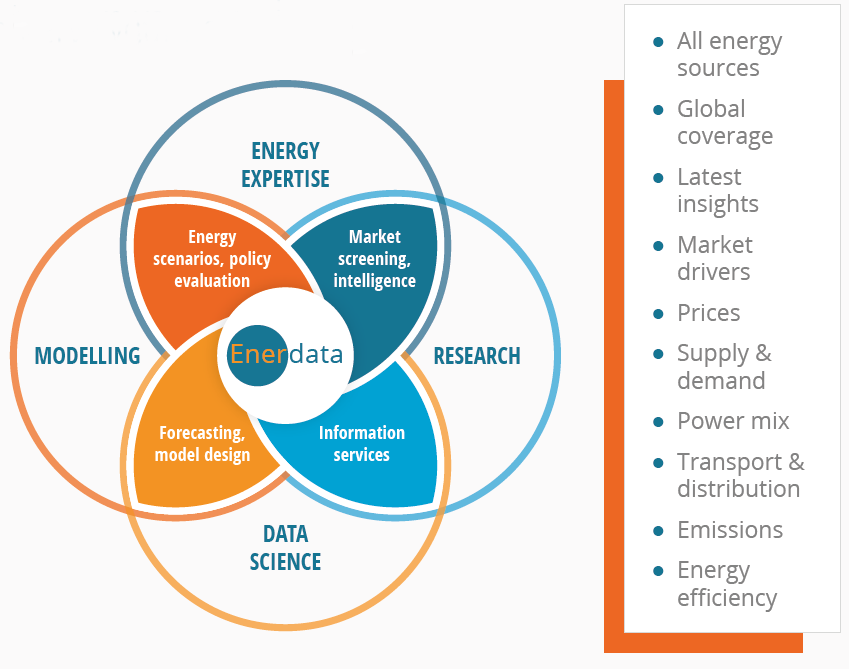 Our key client segments include:
Industrial companies: oil and gas, power, equipment manufacturers, large industries…
Policymakers: international organisations, ministries
National / international energy agencies
Investment banks and development agencies
Investors and private banks
Research centres, universities
We help you understand energy markets, analyse your weigh out your options and make the right decisions.
Our offering includes:
25 years of experience in international energy markets
Independent, innovative and responsive
Unique and trusted models and databases
Comprehensive coverage: all countries, all energies
Integrated know-how: data management, modelling and analysis expertise