Report - 2022 Edition: Annual benchmarks and Long-term impacts
This report will provide you with 2020 vs. 2021 energy and climate data benchmarks, a detailed analysis on "The European gas crisis, what consequences should we expect?" and an exclusive interview with Pr. Manfred HAFNER regarding the future evolution of the global energy situation and the related measures.
Request the full 2022 publication
Consolidated 2021 energy and climate statistics, and projections to 2030
The post-pandemic economic recovery implied higher energy consumption and energy-related CO2 emissions in 2021, exceeding the 2019 levels. From now, what will be the aftermath of the major game changers that occurred recently?
Our Global Energy Trends publication provides you with an in-depth analysis performed by our experts, leveraging our unique databases.
Globally, economic activity and energy demand in 2021 exceed 2019 levels (respectively +1.3% and +0.4%), and the CO2 emissions rebound in 2021 (+5.9%) more than offsets the 2020 drop (-4.9%)
In Europe, the energy inflation is reaching unprecedented levels in 2022, with the Ukrainian war adding pressure to already tight markets. In the short-term, oil price is expected to decrease, while European gas prices are not.
Nevertheless, there is room for strong reductions in gas final consumption.
2020 VS 2021 comparison of key energy figures for G20 countries
G20 countries account for 80% of global energy consumption
Figures in orange: data for 2021
Figures in blue: data for 2020
*CO2 emissions from energy combustion (> 80% of CO2 emissions)
Key Takeaways:
The effects of health measures and the economic crisis were felt mainly in the sectors of services, transport, and carbon-intensive electricity generation.
New RES capacities (wind, solar PV) have been growing despite the crisis.
By the end of 2021, energy efficiency and decarbonisation indicators returned to previous trends, far from sufficient to meet the Paris Agreement targets.
Energy-related CO2 emissions (%/year) in G20 countries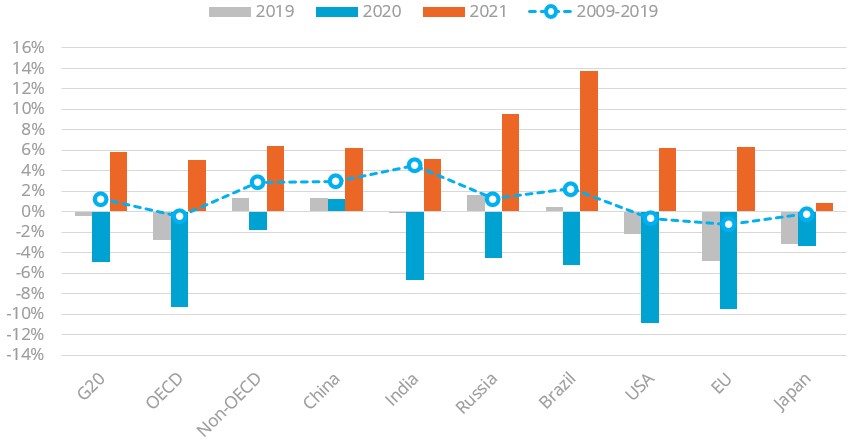 Source: Enerdata
The 2021 CO2 emissions level is 1% below their 2019 level, taking the opposite direction from the 2°C path to reach the Paris Agreement targets.
Economic rebound after Covid-19 led to a strong demand in raw materials and energy.
Projection of European gas price and brent price from forward price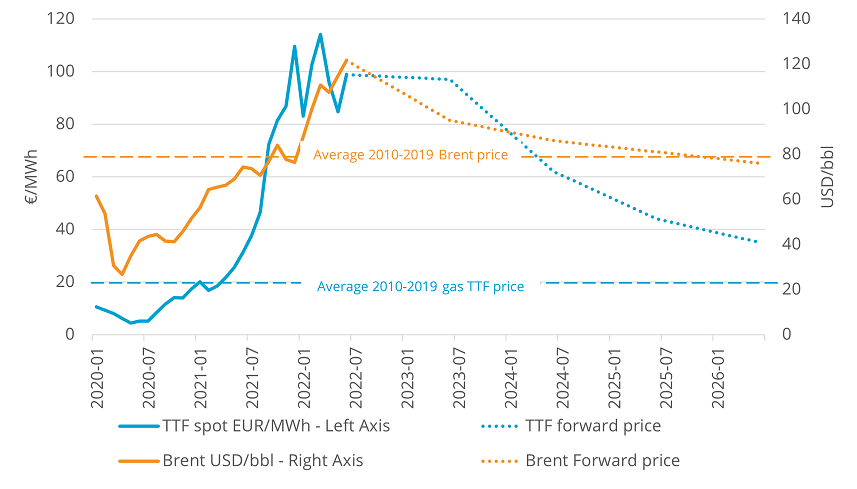 Source: Enerdata; Energymarketprice, as of 14th of June 2022
The Ukrainian crisis adds pressure to already tight markets
The EU has trapped itself into a natural gas dependency on imports, especially from Russia
Addressing energy consumption with efficiency and sufficiency measures is a key option for the EU, which has not been significantly leveraged so far
Access to Enerdata Global Energy Database, the most comprehensive (186 countries, up to 2 000 indicators by country) and up-to-date information source in its area.